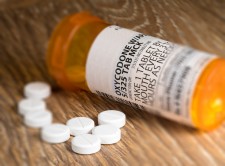 LOCKPORT, NEW YORK, June 23, 2017 (Newswire.com) - Niagara County joined the growing ranks of counties seeking to hold drug companies accountable for the heavy costs arising from opiate-based pharmaceuticals Tuesday, reacting to an opioid and heroin epidemic plaguing Western New York and the nation at large.
The county took the first step toward formally suing the companies, agreeing to enter into a contract with Napoli Shkolnik PLLC, a national litigation firm specializing in defective prescription pharmaceuticals and medical devices. Napoli Shkolnik is representing a number of municipalities, including Long Island's Nassau County, in litigation targeting the manufacturers of prescription opiates.
The Nassau County lawsuit alleges that the defendants in the case, a group of pharmaceutical companies, "knew that opioids were ... addictive and subject to abuse, particularly when used long-term for chronic non-cancer pain and should there not be used except as a last-resort." The suit goes on to charge that "the U.S. Food and Drug Administration has expressly recognized that there have been no long-term studies demonstrating the safety and efficacy of opioids for long-term use."
Majority Leader Randy R. Bradt, R-North Tonawanda, and the Legislature's opioid taskforce chairwoman Becky Wydysh, R-Lewiston, drafted language authorizing the County Attorney's Office to pursue a potential lawsuit last week, after becoming concerned about the high social costs resulting from abuse of opiates and heroin.
Bradt told colleagues Tuesday: "In the first three quarters of 2016, 20 of our neighbors here in Niagara County died from overdose, and around 300 in Erie County died last year. This expensive social problem will likely worsen."
Bradt, who wrote the original legislation that authorized the creation of Wydysh's taskforce, the Opioid Addiction/Overdose Strategy Implementation Standing Committee, or OASIS, said he, Wydysh, and county Mental Health Director Laura Kelemen had been struck by the heavy social impact on neighborhoods throughout Niagara County.
"I lost a beloved nephew to this epidemic, and this is a very personal fight," Bradt said. "But it's also about protecting our taxpayers — who are paying for Medicaid, paying for Sheriff's patrols and city police forces, paying for social services, paying for health and mental health services, seeing property values go down, seeing businesses hurt by the presence of addicts."
Wydysh noted that she also is hopeful that any lawsuit the county files will compel pharmaceutical companies to reevaluate their practices.
"This has cost our taxpayers dearly. But it's also cost families, and we want to put a stop to that," Wydysh said. "Drug companies have produced some miracle products, but the heavy marketing of opiates, the overprescription, the lack of supervision — these things are turning good people into addicts, and destroying families."
Wydysh added that the county has a particularly strong case.
"We are ranked 21st statewide in opioid overdose deaths as of last year," she said. "We are a short drive from a major city. We sit on an international border.  We are vulnerable to illicit drug trafficking and all that results from it: the shattered lives, the ruined families, the rotten neighborhoods. This lawsuit is for all the victims."
Wydysh and Bradt also committed several departments of the county government to support the County Attorney's Office and outside counsel in the case.
"We want to quantify our real damages," Wydysh said. "These opiates have cost our community an actual, calculable figure. When your community is being bled by an epidemic that is driven by bad decisions from corporations, those corporations should be held responsible. We're standing up for our taxpayers."
The lawsuit is being led by Napoli Shkolnik attorneys Paul  Napoli, Joseph L. Ciaccio and Salvatore C. Badala.
"Niagara County has taken great steps to combat the opioid epidemic," said Napoli. "They should be proud to be at the forefront of New York counties seeking to hold the pharmaceutical industry responsible." 
"The manufacturers and distributor of these pills have and continue to profit billions of dollars from the sale of opioid pain medications while areas like Niagara County have felt the consequences. The residents and taxpayers of Niagara should not be stuck footing the bill for the costs of the epidemic," said Ciaccio.
About the firm
Napoli Shkolnik PLLC is a national litigation firm providing representation to persons in class action lawsuits and complex commercial cases as well as victims of environmental contamination disasters, aviation accidents, defective prescriptions drugs and medical devices, asbestos-related illnesses, and other serious personal injury matters. With their principal offices in New York City and additional offices in California, Delaware, Florida, Illinois, New Jersey, Pennsylvania, Texas and affiliates through the United States, Napoli Shkolnik PLLC is readily available to clients.
Contact Information: 
Joseph L. Ciaccio, Esq.
Napoli Shkolnik PLLC
360 Lexington Avenue, 11th Floor
New York, NY 10017
(212) 397-1000​
JCiaccio@NapoliLaw.com​​
www.NapoliLaw.com
Source: Niagara County
Share: